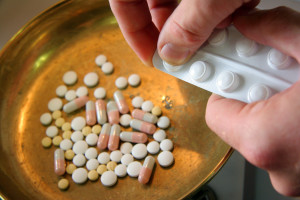 Donald Jones used to pay at least $500 a month for a brand-name drug, Gleevec, that's kept his leukemia at bay for five years.
Lately, he's been paying almost as much for a generic version of the same pill.
It's not supposed to work that way. For decades in the U.S., generic drugs have been cheap, effective alternatives to expensive brand-name treatments. That's changing with drugs like Gleevec, Novartis AG's household-name cancer treatment. Generic forms of the drug can list for $150 or more a pill, before insurance covers part of that cost.
"If I don't take it, I'm going to die," Jones, 73, said in a phone interview. He lives in Desloge, Missouri and wants to retire from his $14-an-hour part time job refurbishing electric motors, which keeps him on his feet for hours. But he says he can't, because he needs the money to pay for the generic version of a drug he thought would be far less expensive.
A handful of factors might explain the trend. Several large companies dominate the market for generics, potentially reducing competition. The starting prices of newer cancer drugs are higher than many mass-market treatments. And generics manufacturers said that pills for cancer can be more expensive to produce…